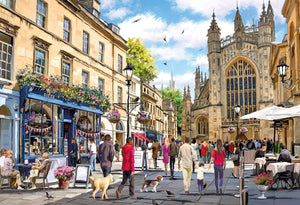 Jigsaw puzzle from the world-famous Gibsons Games

Beautiful iconic art
Bath is the largest city in Somerset and is famous for its Roman-built baths. The city became a World Heritage Site in 1987 but has been a spa town since c.60 AD, when the Romans built baths and a temple in the valley of the River Avon. Bath is also known for its famous Abbey, which was founded in the 7th century, and its Georgian architecture which was crafted from the famous Bath stone. Made from the thickest puzzle board on the market, our 1000 piece puzzles have been manufactured using 100% recycled board of the highest quality.